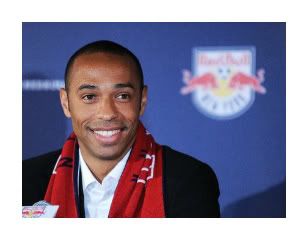 The FIFA World Cup came to a close on Sunday, July 11, with a deserving win by Spain over The Netherlands. The match was far from pretty, but people watched in large numbers, including here in the US. According to reports (http://bit.ly/aCZQvB), over 15.5 million people watched the final match on ABC, setting a record for US viewership, while another 8.8 million watched Spanish-language coverage on Univision. There is no doubt the numbers are impressive and had the US team not lost in its first elimination match against Ghana, who knows if that number could have gone even higher.
On the heels of World Cup came news of Thierry Henry, the French soccer superstar, signing with MLS's New York Red Bulls. Without question, the news for soccer in the US has been pretty decent of late. So, it's probably a good time to once again ask the question (paraphrased for timeliness) I posed several posts ago. What will the interest in World Cup and the signing of Henry mean to soccer in the US at the professional level?
In our post, FIFA World Cup: What will it mean for US Soccer?, we explained why we believe soccer will not elevate to anything approaching other US-based pro leagues in the foreseeable future. The Henry signing has a chance to make a dent though. My friend and soccer aficionado, Gordon Kane of Victory Sports Marketing, believes the Henry signing is more significant than when David Beckham signed with the LA Galaxy. He also believes that if rumors prove true and Brazil's Ronaldinho signs with an MLS team, it would be even more significant. I agree that if Henry can show that he is not a star on the decline and his game is still at a world class level, it may begin to tip the scale. Ronaldinho, while a brilliant and exciting player, wasn't even placed on Brazil's World Cup team, so it's hard to say his career isn't at least trending down.
Super stardom in any sport helps drive interest. In soccer, stardom is harder to appreciate for the average American sports fan that doesn't possess a long history with the beautiful game. We know Jimmie Johnson is a NASCAR star because he has won four straight Sprint Cups. LeBron's stats and appearances on ESPN's Top 10 plays – not to mention being able to hijack an hour of our time so he could let us in on a decision – indicate he's something special. Argentina's Lionel Messi, oft-cited as the world's greatest contemporary player, was unable to find the back of the net during the World Cup. That doesn't mean he isn't a brilliant player, it is just hard for the not-yet-enlightened to grasp.
Increased buzz about soccer from a sports marketing perspective, however, is a positive as it opens up interest in understanding the demographics and psychographics of the fan base. Understanding which sports, entertainment property or events deliver what audiences is a critical part of a sponsorship marketer's role. It is equally important to not misread the tea leaves. Interest in the BIG EVENT (e.g. World Cup and Olympics) may indicate latent interest in a sport/activity, but you cannot automatically make the leap that such interest will transfer over to following a league regularly simply because it's on your home turf.
Adidas Over Nike in World Cup Showdown: We have praised the brilliant piece of advertising cinema Nike created in advance of World Cup entitled, "Write the Future." Adidas' advertising work this time was not as inspired as we've seen in the past. But, proving that sports marketing and advertising are not synonymous, DeepThoughts feels that the German apparel company's more pervasive presence (including what they garnered from official status sponsorship with FIFA) and focus on broader "team support" was stronger than Nike's effort to showcase super stars that under delivered on the main stage. And while the Cup's winning goal came off the Nike-wearing foot of Andres Iniesta, his uniform, as well as the uniform of his Spanish team, was adidas. Oh, and remember the controversy over adidas' Jubalani soccer ball? Well, it has been selling in record numbers.
dp
Tags: Adidas, David Beckham, FIFA, LA Galaxy, Major League Soccer, New York Red Bulls, Nike, Ronaldinho, sponsorship, sports marketing, The Netherlands, Thierry Henry, Victory Sports Marketing, World Cup